Italy lead the way forward in professional workstation sector ...
Lionstracs the world leader in open technology 64Bit keyboards.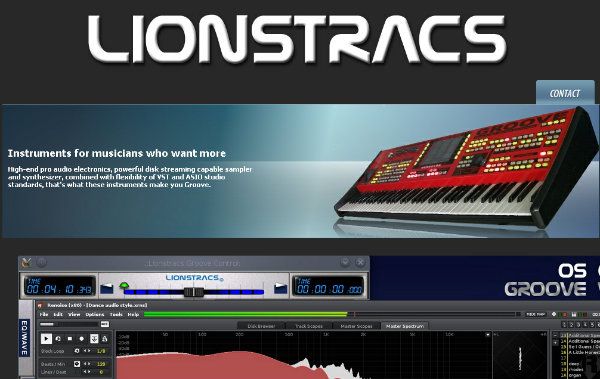 Introducing LIONSTRACS' GROOVE X6 Extreme3 series, the ultimate virtual LINUX keyboard workstation or MIDI controller, contained in a sexy amazing RED or BLACK case.
The new Asrock mainboard 770Extreme3, include now the new Sata3-6Gbs interface, USB 3.0 interface and DDR3 RAM for full speed and double voices on Gigasampler HD streaming.
16 REALTIME SOUNDS ENGINE WITH 10 MULTIPLE ASIO realtime Engines, GIGA Support and Audio-Midi integrated DAW with 32 Marker patterns and 0.8 ms Low kernel Latency!
Still the unique AM3 LINUX Workstation keyboard on the world that support up to 16Gb RAM, Six Core CPU
GROOVE X-6 HARDWARE CONFIGURATION:
CPU AM3- X6-six core
Mainboard Asrock 770Extreme3, full ATX.
16Gb Memory Dual Channel DDR3 RAM. 4 x DDR3 DIMM slots( expandable up to 16Gb)
1000Gb Hard Disk Drive SATA3-6Gb/s, 32Mb chace/7200 rpm.
Nvidia PCIexpress VGA card for drive the internal 8.4" Display and HDMI/DVI Outputs.
500W Green power ATX, ONLY 10db! Total NO NOISE.
6 External USB 2.0/3.0, Eth. GIGA LAN, Fireware, eSata, PS2 Keyboard.
61 Key's TP9 Fatar keyboard.
Joystick and WHEELS version, Pitch/Moulation.
2 XLR MAIN OUTPUTS Balanced
2 XLR CUE OUTPUTS Balanced
2 MONO Jack MIX OUT 2 function
1 STEREO Phones Out Jack.
2 MIDI Inputs and 2 MIDI Outputs.
1 Jack Sustain Pedal connector.
1 Jack Stereo Keyboard Pedal Volume connector.
MEASURE and weight: 98(W) X 39 (D) X 15(H) Cm, 18 Kg
SOFTWARE INCLUDED:
Last LIONSTRACS OS 5.1 Software System available on web store. Included 55Gb of GIGA Library available on stock and much more!
30Gb of Media data and Cdg songs.
OPTIONAL Hardware Included:
Two flexible 330mm detachable gooseneck LED Lamps with XLR male connectors
1 Music Stand sheet X-6